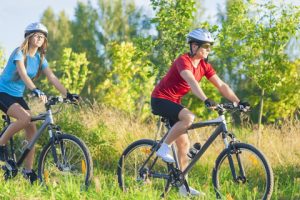 Keeping your body fit is a duty. If one brings together revitalisation of the body with that of the mind, this duty becomes a pleasure.
Here you can  perform a huge number of different physical activities on the basis of your wishes. Hiking, cycling, trekking, horse riding, climbing, swimming, kayaking, tennis, golf, fishing, and hunting: there really is something for everyone!
For those who love movement it is possible to make excursions by mountain bike on the hills, as well as trekking in the woods and rock climbing. Indeed, this part of Tuscany has the peculiarity of not only being hilly: the landscape is so varied as to offer many possibilities for enjoyment even for those who love alpinism.
The Pizzo d'Uccello, in particular, has to the north a grandiose wall of rocks of about 700 metres in height which, extending in length for some kilometres goes to form a marvellous amphitheatre: at the ends of this amphitheatre there are two railway lines, by which you can make the entire trip around the whole mountain.
Among paths with equipment, stretches more or less steep, apparently flat ground, climbs and terraces there are different degrees of difficulty. The Pietra di Bismantova, a characteristic loaf of sandstone, is truly loved by alpinists for the numerous activities of free climbing that can be done here. Also on the Torri di Monzone one can go climbing: real and true rock gyms allow you to climb the mountain with pitons, cables and ropes, as well as abseiling.
Instead, for those who want to relax, in all seasons one can take beautiful walks, on foot or on horseback, along the paths immerged in the greenery. Indeed, across the villages of Succiso, Pradarena, Orecchiella, Abetina Reale and Buana, there is the possibility of going trekking on horseback, in that there a stations to rest the horses, equipped with canopies and supplies, to be able to continue along the route in the best conditions.
In the winter season the nearby ski resort of Cerreto offers with its plant pistes of every type for lovers of this mountain sport.
Are you golf enthusiasts? Then you'll be pleased to know that in Pontremoli there are golf courses where you can relax and enjoy yourself both in summer and in winter.
And why not go kayaking or swimming in the transparent water of the river? In the many streams of the Lunigiana such as the Taverone and in those of the nearby Val di Vara, indeed, you can have fun by going rafting.
All the streams, rivers and lakes offer the possibility of practising angling: in the Rugiano lake, in particular, during the good season one can fish carp, sturgeon, trout, tench and bass.
The large number of wild boar in the vicinity guarantees rich hunting for lovers of this pastime.
Finally, in Fosdinovo the "Adventure Park" has been built: a real and true structure equipped with adventurous routes with lianas and rope bridges for all aspiring Indiana Jones.
---
   Go Back | The apartments | Home Page
---