The Via Francigena… and other roads
The Via Francigena… and other roads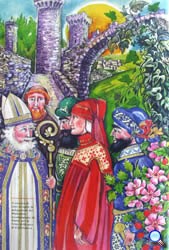 There are many names that can be used to define this area: land of nature, water, flavours, art… but above all… land of roads!
Yes, because across this soil passes not only the ancient Via dei Franchi, commonly known as the Via Francigena…
Once the faithful and religious who, moved by a very strong sense of devotion, undertook this very long walk, to reach the tomb of St. Peter in Rome, might meet on their way other pilgrims heading for Spain along the Cammino di Santiago de Compostela.
Not only. There is a third road here which intertwines with the first two: this is the Via del Volto Santo (Holy Face) di Lucca.
The most precious testimony turns out to be that of Sigeric who in 990 travelled along the Via Francigena from the county of Kent to Rome, in order to receive his consecration as archbishop of Canterbury from the Pope.
Thus the Lunigiana enhances it own historical-cultural heritage, boasting on its land the meeting point of ancient roads, once trodden by all those medieval knights, lords, monks and believers who make up for us today a good part of our vast heritage of traditions.
Even the greatest poet of all time passed by here and left evidence of his transit: indeed, in Canto VIII of the Purgatorio, Dante sang the praises of the imperial Malaspina, who had very generously hosted him on their majestic estate on the Via Francigena.
Just as there are sacred stopovers along this route that punctuate the length and the duration, one is led to believe that here there were the logistic bases for the Templars.
An aura of mystery has always surrounded the figures of the Soldiers of Christ, some of whom, having escaped the stake, moved around Europe where they founded a secret order…
The settlements of the Templars can be found all along the Via Francigena. But what purpose do these buildings, which are nothing more than vestiges of the mysterious knights, serve? We have already underlined the sacredness as well as the importance of hospitality in the Lunigiana, with the example given to us by Dante: so the buildings, abbeys and hospitals of the same Templars had the aim of supplying a base for all those wayfarers who needed to rest their limbs before starting off on their journey once again.
These paths, project us into a dimension out of time: indeed, at the crossing of these roads intersect in turn, between literature and history, the great European myths of epic-chivalrous nature, such as the Breton, the Charlemagne and the Nibelung cycles.
Today there are a huge number of pilgrims (and not) who undertake to follow this route, thereby crossing places not only enchanting for their nature but also extremely evocative, because they are loaded with one of the most consolidated traditions in Europe.
---
   Go Back | The apartments | Home Page
---