Stele statues mysterious statues
Stele statues: Some stone or mysterious statues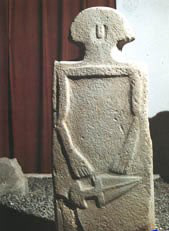 Allure and mystery blend continuously here. The atmosphere is permeated by an aura of recollections of a world full of secrets and interrogatives.
On the intersection that links eastern Liguria to Emilia Romagna and Tuscany, in a not so remote corner of land, starting from the first half of the nineteenth century a very precious cultural and artistic "treasure" has been found.
The Stone Statues (Steles) are monuments in sandstone, of anthropomorphous nature, to be dated back to the period between prehistory and the most ancient history.
Was it by chance that this mysterious stone inheritance was left to us?
This is but one of the many questions that have arisen about the unknown populations who lived on this land before us.
Indeed, together with the Stone Statues (Steles), many, many questions have been raised. The hand of what creator hides behind these fascinating forms of art? Or more simply which is the population that can boast having built these monuments? What are these figures, with sometimes masculine sometimes feminine features, trying to represent? Heroes of the time or more likely particular forms of divinity? What purpose did the Stone Statues (Steles) serve?
Unique aspects due to their peculiar characteristics and traits shared with other cultural areas alternate, as if to almost wish to further complicate this dense maze of questions about the Stone Statues (Steles).
It is curious to note that recently in this Italian region unknown flying objects have been seen during the day and globes of light at night. Perhaps a similar phenomenon also happened in the past? Couldn't the Stone Statues (Steles) therefore be stone evidence of the repeated manifestations that took place? In this case one would no longer be dealing with a celestial divinity, but with real and true extraneous presences coming from who knows where… That is not all. Just think of the lunar shape of certain headdresses of these sculptures: it is inevitable to reconnect them with the moon (Luna in Italian), just as the name of the locality: Lunigiana. Simple coincidence? Or…
The 60 Stone Statues (Steles) discovered up to now are just a small number compared to all those that remain buried. And perhaps together with the latter remain buried all the answers that could solve all our doubts about this mysterious civilization, which with all these interrogatives is able to unleash a very strong appeal.
---
   Go Back | The apartments | Home Page
---